Country Calendar and NZ On Air go way back - we've been funding the programme since 1991 - it is the longest running programme we fund and the longest running on NZ television.
Each week Country Calendar visits New Zealanders who earn their living from the land or sea. The series gives rural people their own voice and urban viewers a genuine insight into rural life.
It is consistently the highest-rating NZ On Air funded programme, with more than half a million people tuning in every week.
We aim to fund a range of diverse and innovative documentaries and factual programmes that are appreciated by their intended audiences. We also make sure there are programmes on free to air television that reflect and develop our national identity. Country Calendar is a uniquely New Zealand show about unique New Zealanders.
NZ On Air Chief Executive Jane Wrightson reckons the programme is quintessentially New Zealand. "Our brief, in the Broadcasting Act, is to support content that reflects New Zealand identity and culture. Nothing meets this brief more fully than Country Calendar."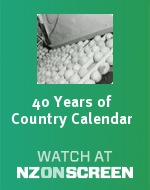 Country Calendar is made by TVNZ for TVNZ1
Country Calendar 2017: 40 x 30mins
NZ On Air funding $566,720
an absolute charmer, based on simple, old-fashioned television storytelling of a kind we've nearly forgotten about
— Jane Clifton, Stuff.co.nz